This article is the third in our series on social media for business. If you haven't checked them out yet, here are the links to parts 1 and 2:
Social Media for Business, Part 1: Tips
Top Social Media Platforms to Explore for Your Business [Part 2]
A note before we proceed: this article is not sponsored. The brands below are just examples picked out during the research stage for this article. The following brands were shortlisted as those best representing the topics discussed in the previous parts of this series. These brands have also themselves enjoyed their own achievements. Their publicly known merits also make these brands easily recognizable and thus are fit to be used as examples for the topic at hand.
Brands Making Great Use of Social Media for Business
Nike
There are brands that produce content for good and showing it by participating in charity events. Among them are Ben & Jerry's, Patagonia, and Nike. Showing activism is a way for a brand to build recognition and gain following. But brands must do this sincerely and consistently. Nike, for example, is a brand that supports sustainability and actively participates in the movements for social change. Nike keeps its website up-to-date and ready for site visits, but the brand is active on different social media platforms. The brand has 1.67M Youtube subscribers, 8.9M Twitter followers, and almost 36.6M Facebook followers. But it's in Instagram (197M followers) where Nike shows a leading role in the movements it is actively participating. The brand puts forward and focuses on athletes in their game and declaring it's Never Done.
GoPro
GoPro's social media activities are all just practically about curating and sharing user-generated content. People want to share, people like relatable content, and especially with the pandemic lockdowns, people are eager to have fun outdoors. The brand is still alive and well especially among its community of avid GoPro users. It has 18.8M Instagram followers and 10.6M Youtube subscribers. On Twitter where it has 2.1M followers, the brand keeps everyone updated with Photo of the Day posts. On Pinterest where it has 48.3K followers and 364.2K monthly views, GoPro makes DIY fun with a collection of topics depending on a GoPro enthusiast's interests. GoPro doesn't want anyone left out in the fun and in the action, it now as 1.8M followers and 22.9M likes on Tiktok.
National Geographic
While even the back issues of its magazines are still interesting, National Geographic is also active on social media. @natgeo has a lot of followers on different platforms: 26.9M on Twitter, 49.2M on Facebook, and 205M on Instagram. Natgeo provides a healthy alternative to doomscrolling and invites an escape from today's tech fatigue to pockets of green spaces or access to the breathtaking breadth of nature which may just be nearby from where you live.
NASA
NASA is a US government agency with a wide social media presence. For the basic platform, Facebook, they have 25M followers. 73.7M Followers also explore "the universe and the home planet" with them through Instagram live videos. One could see live videos of the James Webb Space Telescope deployment, weekly rocket launches, and astronauts on the ISS sometimes with Ask Me Anything sessions.
Speaking of astronauts, NASA astronauts have a verified account on Twitter, Women@NASA as well. Well, Nichelle Nichols (appointed to NASA's board of directors in 1977), Star Trek Original Series' Uhura, like Leonard Nimoy (Spock), really influenced aspiring scientists and astronauts of all races, color, and gender to be part of NASA.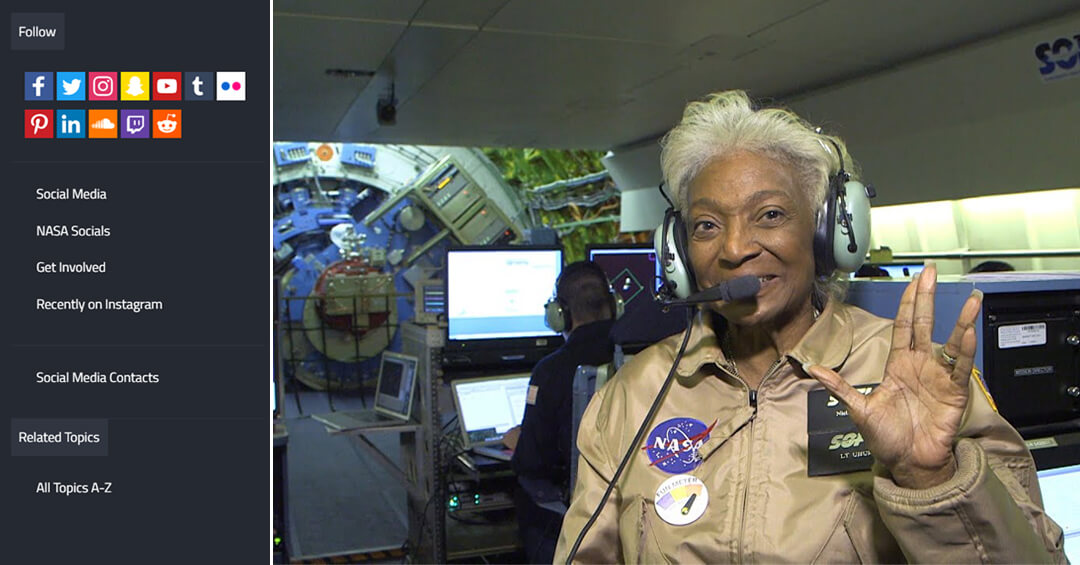 NASA declares on Twitter where the agency has 51.9M followers that "there's a space for everybody." The agency is also on LinkedIn with their proud 42.9K employees and a following of 5.7M. The agency is also LinkedIn's Winner of their 2021 Talent Awards. NASA has also expanded its reach to Snapchat (845k subscribers) and a lot more social media platforms.
Clarks
In 1825, Clarks introduced slippers made of sheepskin off-cuts. Their products have become iconic and ground-breaking through their combination of craftsmanship and innovation.
Clarks Desert Boots came about, for example, because of the family's instruction to Nathan Clark, a great-grandson of the founder James Clark. In 1941, he was requested to watch out for shoe ideas in his deployment in Burma. He then sent sketches back home of a simple chukka boots that he thought would be revolutionary as he wanted to introduce to elegant gentlemen materials associated, back then, with the lower classes. Though the company initially thought that it will never sell, Nathan Clark crossed over the Atlantic to exhibit it in the shoe show in Chicago in 1949. He got positive feedback from influential editors and the public, in general, that production immediately began in the UK for the launch in 1950 for the US market. The product's appeal endures even to this day.
Clarks' main website is a directory of all their websites across different countries. Like Nathan Clark, the brand continues to be attentive to the market so that they could innovate accordingly. Clarks in the UK, for example, is not only TikTok with already 204.4K followers and 587.7K likes. They are also a WhatsApp message away from their loyal and potential customers. The opportunity to engage in conversations in WhatsApp is a good fit for the company who likes to share stories so even younger generations would know how far their brand has come.
Sephora
Sephora prides themselves as a leader in omni-channel retail. Backed with more than a 50-year history, the brand founded in France now has 2,700 locations globally, with 500 of those across the US alone. They are also into e-commerce and also on different social media platforms where their target audience is mostly at: Instagram, Facebook, Twitter, Youtube, Pinterest, Snapchat, and TikTok.
You can head over, for example, to Sephora's TikTok page with 299.6K followers and 3.1M likes or Pinterest with 960.8K followers and 10M monthly views for user-generated tutorials and testimonials.
Netflix
Netflix does a lot of A/B testing to deliver personalized lists of recommendations. Such market research requires continuous study of customer data for pinpoint targeting. Since WhatsApp is big in India, for example, they have also used the platform to gather feedback and information, thereby producing more relatable recommendations. Netflix now has 22M followers and 355M likes on TikTok where they post interesting short clips from popular movies and series episodes available on their app. But, of course, their objective is to convert viewers from their social media pages to Netflix subscribers. Either that or they want to whet their appetites to binge-watch new movies and episodes.
In November 2021, Netflix introduced the @netflixgolden Twitter handle, "a channel dedicated to celebrating *all* stories from the Asian diaspora. As of this writing, @netflixgolden, with the Asian polite-request on its profile, "Leave your shoes at the door," has already more than 7K followers. Their official Twitter handle, meanwhile, has 15.7M followers.
Wendy's
@Wendy's says on its profile, "We like our tweets the way we like our fries: hot, crispy, and better than anyone expects from a fast food restaurant."
Wendy's kicked off its campaign, #NationalRoastDay on Twitter on January 12. We'll, the holiday was just made-up, originally. However, the brand took on became consistent with a cheeky personality that "roasting" has become synonymous with the name Wendy's. Although only a marketing campaign, the made-up holiday has become now very real. The kick-off for the month-long anticipation for the February 12 #NationalRoastDay was fun as fast-food competitors and even other brands joined in the roasting. Xbox was excited to get it started. Some even asked for it, Aflac Insurance, for example, who got roasted indeed.
Xbox
On March 15, 2021, Twitter Marketing tipped-off Round 1 of the #BestofTweets Brand Bracket. 16 brands on Twitter competed: four brands each from four conferences: Food, People's Choice, Entertainment, and Sports.
@Skittles defeated @Wendy's in the Food Twitter Conference. It then moved up further, defeating @alexa99 from the People's Choice Conference, to face Xbox. @Xbox, from the Entertainment Twitter Conference, defeating @MTV, then also @theGEICOGecko from the Sports Twitter Conference, finally emerged as the overall winner.
"Hi TikTok, We're Xbox," says Xbox on its TikTok profile. The they of Xbox on the social media platform has grown to 3.4M followers. On the more popular platforms, Facebook and Instagram, Xbox has 21.8M and 12.5M followers. On Twitter, where they won the 2021 Best of Tweets Brand Bracket, Xbox has a following of 17.6M strong.
Takeaways
These are just a few examples of brands making great great use of social media for business. You may want to learn from them or emulate them. If one has to reverse-engineer how they developed their use of social media for business, it all goes back to the tips we talked about in Part 1 of this series.
Know your audience.
In Social Media for Business, Part 1: Tips, we learned the importance of really knowing and listening to your audience. Clarks and Netflix, for example, took time in doing research and gathering feedback to continue to develop relevant products and social media content.
Make your content relevant.
Second, content strategy is important in considering social media for business. There are already a lot brands out there on the various social media platforms with already a lot of following. To stand out, you must be able to communicate your brand's USP. Then, you also have to frame your campaign and content in a way that would be relevant to your market. There are different approaches depending on age, gender, culture, and interests. Communicate as much as possible at a personal level and be consistent, like that of Wendy's if you will.
Deliver a great customer experience.
Third, it is also important to provide a great customer experience. Sephora's omni-channel approach is worth looking into. An omni-channel strategy could be like venturing into different directions all at once. Ordinarily this is a risky move, something hard to pull off-one could be spreading oneself too thinly. On the other hand, Sephora seemed to be fine with it, now even having user-generated content from their customers who love their products and just want to share to others how the products work.
Be consistent with your brand values.
Finally, be sure to be consistent with your core values while also taking care to value your customers. Customers' values are personally important to them. Aligning the values you hold and those of your customers could go along way. We saw, for example, how Nike, GoPro, National Geographic, and NASA recognized the things that mattered to their audiences. So, again, you can only be authentic by being firm in your values. That and, at the same time, valuing your customers.
Keep those in mind in developing your social media page and content in whatever platform you need in harnessing social media for business.
There are a lot of approaches to choose from regarding what content to develop. You may want to explore making short videos or what is known as "snackable" content. Or you can consider giving your audience the spotlight by featuring their created content on your page. Influencer collaboration is another option. Some brands have allowed "social media takeover," i.e, where a famous influencer takes over a brand's social media page. For social media for business, however, you also need to prospect for the right influencer. Your chosen influencer must be one that could speak your brand and has the same values as yours. Or you could just start participating in conversations. You could, maybe, tap into trending topics and share your wisdom. Or you could make a meme, or launch a made-up, quirky holiday.
If you need access to better online marketing strategies or third-party providers, perhaps helping you with taking more out of social media for business, we at StratAccess could help you with it.
StratAccess Inc., established in 2012, commits itself to find its clients the BPO in the Philippines for successful business solutions. The company focuses on transforming the landscape of call center partnerships. This is important in order to meet the requirements of today's small and medium-sized enterprises (SMEs). StratAccess consultants stand ready to help clients take a hard look at their business objectives, organization infrastructure, and operational practices.
We at StratAccess strive to build long-term relationships that extend beyond the typical vendor-client transactions. Our primary focus is to successfully promote and serve each client's products or services as though they are our own. Combined with the skill and knowledge of the Philippine outsourcing industry, our company has positioned itself as a leader in delivering its clients access to qualified quality and cost-effective BPO referrals.