Customer service is a critical factor in putting your business in a good light. More than offering highly valuable products and services, prioritizing your customer's welfare is always an important business goal and strategy.
How is addressing customer concerns a strategic approach? For instance, a study reveals that 86% of customers are willing to pay more for a great customer experience. Basically, how you treat or take care of your customers can help drive loyalty, retention, and sales.
However, handling customer queries can be challenging when you don't have the right team and operational capacity. Answering customer's calls, messages or inquiries may be additional tasks that will burden your existing employees. In turn, task overload can harm employees and, eventually, your business operations.
Instead of hiring an entire customer service team, why not outsource call center services?
Call Center for Businesses
Outsourcing a third-party customer service team is commonly a partnership between a business and a BPO call center company. BPO call center companies offer communication management services to businesses to support customer concerns. These call center companies make sure that every question from a customer gets answered.
Call center refers to an office used for assisting or supporting customer concerns via incoming calls or outbound calls. Often, a call center agent interacts with customers via phone calls but somehow expanded to e-mail messages and other inquiries as well.
This expansion of functions allows call centers to perform other than answering phone calls alone. Today, many call center companies adopt other customer service functions to keep up with communication trends. This evolution of functions let call center companies rebrand as "contact centers."
A contact center refers to a call center that uses a multi-channel communication approach (not just calls) in interacting with customers. In a contact center, agents can also interact with a customer through social media, e-mail, live chat, etc.
Although the difference of both terms lies in their names, call center or contact center, both have a similar purpose—to interact with customers whenever concerns need to be addressed or solved. In this article, we'll focus on call centers.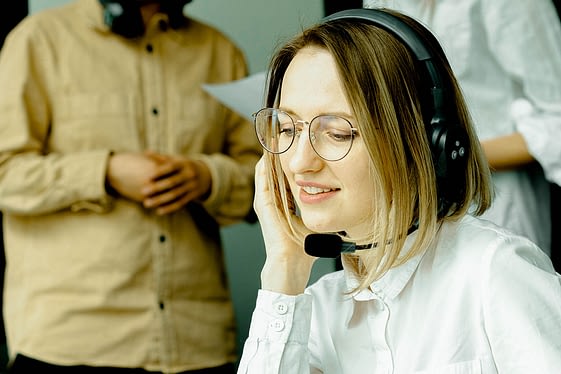 A Guide in Selecting Your Call Center Partner
A customer's experience relies on the kind of treatment you give them. Thus, your outsourced customer service team takes on a critical mission to keep your customers satisfied. In case you need help in selecting a company partner, read this call center guide.
Decide on the type of call center services you need
There are three types of call centers that can meet your business needs:
Inbound Call Centers. An inbound call center primarily handles incoming calls. These calls happen when customers actively seek assistance from agents. Usually, inbound calls include customers' questions, issues, or inquiries.
Outbound Call Centers. An outbound call center is the opposite of an inbound call center. In this type, the call center handles outgoing calls. These calls happen when agents reach out to customers. Commonly, agents perform outbound calls for sales and marketing purposes.
Virtual Call Centers. A virtual call center is a call center where agents are dispersed in various locations but are connected through cloud-based software. This type of call center can combine the services of inbound and outbound call centers and allows businesses to operate from anywhere. Virtual call centers are convenient for businesses serving customers from different offices and time zones or for businesses in remote work arrangements.
To come up with a decision, always keep in mind your business's requirements. If you only want additional agents to cater to incoming calls or inquiries, go for an inbound call center. If increasing profits and customer base is one of your goals, consider an outbound call center. Lastly, if you need both inbound and outbound functions in a particular operational setup, you can try a virtual call center.
Determine if the call center company can accommodate your load
Are you a small business or a big business? Do you usually encounter a high volume of calls coming in, or do you need more people to reach your customers? Aside from knowing your business needs, it's also a must to determine the size of your customer service load. With this, you can better find a suitable call center company to accommodate your business.
In the BPO call center industry, an outsourcing company may require a minimum call volume before agreeing to a partnership. It makes sense that a big call center company will partner with a business encountering a high volume of calls and several customer concerns. On the other hand, if you're a small business, find a call center company that accepts a low volume of calls or a small number of customer inquiries.
Make sure to gauge the number of your incoming customer concerns and the number of agents you need for outgoing calls. These are essential details that a call center company will ask of you as these are also factors in pricing their services.
Check the call center company's background and reputation
Just like doing a character investigation for new hires, it's also important to take a quick background check of your potential partner. After shortlisting partner candidates, get to know them more by exploring their company profile, history, services, portfolio, and track record.
You may also check if a call center company has been receiving awards due to its exceptional service. Or, it can also be that it's a small BPO call center company but with trustworthy professionals behind its continued success. However, one of the most accurate sources of knowing a company's reputation is through its clients.
Get feedback from the call center company's clients
Every company's success lies in its customers. If your call center partner candidate has an impressive clientele, then it pretty much is proof that the company is performing well.
You can speak with the clients of your candidate companies and ask about the partnership. Ask how it's like working with the company and if the company lives up to the services it offers. Most of all, ask the client if they would recommend the call center company.
In addition, if your shortlisted candidate serves your competitors, then it must be a sign that the call center company can also meet your requirements. It's up to you if you'll partner with a company that handles a client from the same industry as yours. You may inquire if there could be dedicated agents to manage your customer service.
Consider the location of the call center
In outsourcing BPO call center services, you have to consider the location of your call center. Firstly, confirm the place where most of your customers reside. Choose a site that is similar or near the area to prevent incompatibility of time zones. Also, you can avoid letting your agents work around the clock.
Secondly, determine where the actual call center is going to be situated. Do you prefer placing it within your office or letting it stay on the premises of your partner's workplace? Or, would it be convenient to have virtual or remote agents?
Thirdly, revisit your goals. If you intend on expanding your business, pick a location where you plan to operate.
Your call center location depends on your customers, budget, resources, and goals. Make sure that wherever it's going to be, it should still meet your customers' needs without compromising the quality of your services.
Ensure the call center's security measures
As a business, you keep essential information and data of your organization and customers. This data may be top-secret or sensitive, which requires privacy and security.
In outsourcing your call center customer services, sharing various information with your partner may be unavoidable. It's your job to find out the call center company's privacy and security measures. Ensure that the company implements protocols and management procedures in taking care of such vital information. You can let your potential partner discuss how they store and protect data, and if they have recovery measures in case of fraud or data corruption.
Once you have an idea of the security measures, review your own organization's standards. Make sure that yours align with the call center company.
Know about the call center company's culture
Cultivating a business relationship is a job for both parties. Thus, your organization and the call center company must somehow be on the same wavelength. This doesn't mean that both you and your partner must be similar in most ways. What counts as crucial is how both cultures can come together.
Company culture is a good indicator in evaluating a business relationship. It involves both parties' work environment, vision and mission, values and ethics, expectations and goals, or leadership styles. So, how would you be able to explore your potential partner's workplace culture?
Again, doing a background check can give you an idea of what the company is like. Their profile and employee testimonials can already give you a glimpse of the company's culture. Some companies dedicate a webpage highlighting their culture and the perks and reasons why employees and clients should pick them.
If you have all the time to do a physical check of the company's office, the better. Observe the workplace and the actual employees. At a glance, you can have a feel of what it's like to be a part of their organization. And if you don't like the hassle of a background or office check, you can observe the traits and work process of the company's representative during your discussion. The way they communicate can easily influence your impression of their organization.
Understand the call center's communication practices
As mentioned, communication can give away a call center company's ways of doing business. Communication is a crucial factor in maintaining business relations. Thus, a call center company that is transparent, honest, and open can make your partnership easy to handle.
You can ask your potential BPO call center partner about its processes regarding discussions, negotiations, and issues. If those items can realistically align with how your organization approaches simple to complex matters, then communication is one less thing to worry about.
Be informed of the call center company's pricing
Since one of the benefits of outsourcing is to reduce costs, it's ironic to pay a hefty sum beyond your budget. Carefully review the call center company's pricing terms to see if you have the budget to outsource or agree with how it charges clients.
Commonly, call center companies charge by the minute or by the hour. There are also some providers requiring clients to acquire an entire workday of around eight hours. Additionally, check for terms regarding the cancellation of the contract. Anticipate your plans and know if outsourcing the call center is for the short or long term.
Ascertain the call center company's flexibility and scalability
Unlike in-house employees, your outsourced call center can easily move and assign people you need. In case you require shifting or other minor changes, the partner company should be able to grant your request quickly.
You should note, however, that these movements or shifts don't cost you additional fees. Unless the changes are part of an overhaul of plans, you should be paying the regular or agreed fees.
On the other hand, your partner company should also be flexible to keep up with your needs. Changing market demands and organizational transformations usually happen. Therefore, your call center provider should have the capability and capacity to scale with you when you need it. Coping with sudden and major changes easily is a good thing. However, maintaining the efficiency of services is still a must.
The Right Partner for Success
Keeping trustworthy people on your team matters towards succeeding in the business. More than having good employees, partnering with a company that aims to help you achieve your goals efficiently is a strategic move.
As a business leader or owner, you should have the ability to assess a call center partner that can match your requirements. Once you successfully established effective teamwork, projects and campaigns will run smoothly. Your business will achieve streamlined performance and, in turn, offer high-quality service to customers. Overall, these efforts will set you apart from the competition and will earn you loyal customers, increased sales, and business growth.
Involving an external partner in a project is a decision that can make or break your targets. So, it's only vital that you carefully evaluate your options and arrive at a decision where you'll choose a partner that is best suitable for your needs.
If you're looking for a call center partner, we're more than welcome to be of service. We, at StratAccess, are equipped to assist you in finding your BPO match. Our consultants are adept at outsourcing partnerships and can guide you with your business objectives. Contact us today for cost-effective BPO referrals!